Earn Money for Cotswold School while you Shop!
An easy way for grandparents, neighbors and other family members to help our school too! All proceeds go to the Cotswold School PTA General Fund.
Loyalty Cards
| | |
| --- | --- |
| | HARRIS TEETER – COTSWOLD SCHOOL LINK: 1772 – RELINK your Harris Teeter VIC Card for Cotswold school Today! You must RELINK each year! Harris Teeter's Together In Education program is a fund raising program for schools (public or private- preschool through 12th grade) in their communities. When customers purchase select Harris Teeter Brand products using their VIC card, Harris Teeter contributes a percentage of those purchase dollars back to Cotswold School. |
| | FOODLION – COTSWOLD SCHOOL ID: 212795 – Register your MVP Card for Cotswold school Today! Every time you shop and present you MVP Card, an amount you spend on qualified items is automatically credited back to Cotswold School. |
| | TARGET – COTSWOLD SCHOOL ID: 80422 – Register your Target REDCard for Cotswold school Today! Take Charge of Education® is an easy way to help us raise money for our school. Here's how it works: Visit Target.com/tcoe or call 1-800-316-6142 to designate our school, then use your REDcard whenever you shop. When you use your REDcard® (Target Credit Card®, Target Debit Card® or Target® Visa® Credit Card), Target® will donate up to 1% of your purchases to Cotswold School. |
| | BI-LO BOOSTERPLUS – Shop with your BONUSCARD®, BI-LO contributes 1% of your purchase back to Cotswold School. Obtain an enrollment card directly from the Kathryn King. Bring the enrollment card with your My BI-LO BONUSCARD to any BI-LO cashier to link your My BI-LO BONUSCARD account to Cotswold School. |
Box Tops for Education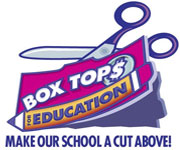 Start Clipping! Each Box Top coupon is worth 10¢ for our school. Think Pink! You can find Box Tops on over 250 participating products. Cotswold School could earn up to, but not more than, $20,000 cash per year (beginning on March 2 of every year) from the Clip program.  Send Box Tops to school all year long with your children. Keep clipping over the summer.
Proceeds will go into the general PTA fund to cover whatever the school is in need of most – from field trips, school supplies, books to the playground.
Lands End – Shop Now!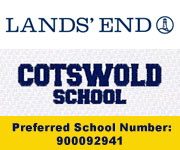 With Lands' End School Rewards, Cotswold School can receive up to a 3% cash-back reward from our school's total uniform purchases.And by wearing your Cotswold School logo wear, you support our school spirit!
SHOP NOW!
Search for Cotswold School via our Preferred School Number: 900092941, for a faster search.
Cougar Kickback Cards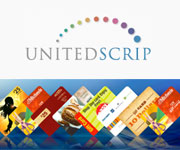 With the UNITEDSCRIP fundraiser, you can purchase gift cards for local and national retailers (think Marshall's, PetSmart and Belk, to name a few) and the Cotswold PTA earns a percentage of your purchase to use in our school. Last year the program earned over $1900 for our students!
Please print the Cotswold Kickback Customized Order Form and return with payment in an envelope to school: Atten: Denesha Pusha-Jones. 5 orders will be placed during the school calendar. The order due dates are as follows:
Friday, Oct 18, 2013
Friday, Dec 6, 2013
Friday, Jan 31, 2014
Friday, Mar 21, 2014
Friday, May 23, 2014
Quick Links: Browse alphabetically by Category or print the UnitedScrip Order Form for a paper reference. Each Retailer's Gift Card is listed with the Denomination and Percentage of Profit our group will receive. Automobile Care/Gas Cards | Book Stores | Catalog/On-line Stores | Children/Teen Specialty Stores | Electronic/Technology | Health & Beauty | Home Improvement | Hotels/Travel | Movie/Entertainment | National Grocery | National Restaurants | National Retailers | Office Supplies | Pharmacy/Drug Stores | Scrip Accessories | Upstate UnitedScrip Retailers
If you would like to order additional cards from retailers not listed on the Cotswold Kickback Customized Order Form, simply add retailer's name, denomination and percentage amount in the Notes section located on the Cotswold Kickback Customized Order Form.
If you have any questions, feel free to contact Denesha Pusha-Jones. Thanks in advance for your support and participation!!