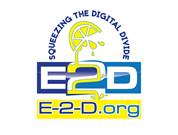 There are over 25,000 families in the Charlotte Mecklenburg School system that lack technology access in their homes. The students in these families don't have a computer or Internet access that is essential in today's classroom. In 2013, a CMS middle-school student decided something should be done to address this education gap and E2D, "Eliminate the Digital Divide" was founded.
Since then, E2D, in conjunction with CMS and other community businesses and agencies, has provided essential home-based technology for 1,000+ families. This grassroots organization was formed in the north part of Mecklenburg County and has now partnered with 9 elementary schools, 3 middle school and 8 high schools to address the technology needs of students. E2D's work continues to expand throughout CMS to accommodate the remaining families that need computers, broadband connectivity, and digital literacy training in order to close the academic achievement gap.
E2D believes in the importance of empowering children to be a part of the solution to "Squeeze the Digital Divide."  For the past three years, E2D volunteers and students from the CMS North Learning Community have led a child-centered Lemonade Stand Campaign to raise awareness and fund solutions for the digital divide. On May 7, 2016 E2D with support from Google Fiber, will launch a county-wide Lemonade Stand Day run by the dedicated students and staff at all CMS elementary schools.
Lemonade Day is a wonderful opportunity for all people in the community to rally around their elementary schools to support students throughout CMS.  Parents, neighbors, and community partners can assist lemonade day efforts in several ways:
Host a stand in your community, neighborhood, or place of business,

Provide volunteers at already planned lemonade stands,

Purchase or provide needed supplies to host a stand,

Create marketing and advertising opportunities and outlets,

Visit lemonade stands the day of the event to purchase lemonade and cheer on the dedicated students and staff.

 

E2D is committed to the partnership with CMS that will ultimately equip the estimated 24,000+ CMS families who still do not have digital access at home. E2D's goal is to provide the educational tools that will make the students in these families successful in the classroom and ultimately prosper throughout the rest of their lives.
You can be a part of the solution on May 7th. If you are interested in joining E2D and CMS on Lemonade Day 2016 or learning more about this organization, please visit www.e-2-d.org  or contact Cara Turner (carae.turner@cms.k12.nc.us) or Morgan Cromwell (mcromwell@carolina.rr.com)