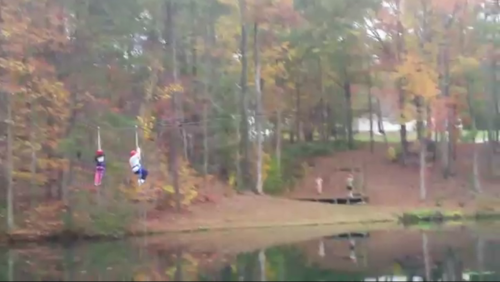 This week's Catch goes to Assistant Principal Ms. Mullins. She traveled with the fifth-grade class to Camp Hanes.
All of the teams of kids  and adults cycled through different activities. Some activities were meant to be fun, some were meant to be educational; all of them created some level of healthy challenge for the participant.
When Ms. Mullins' team reached the zip line, she was hesitant to go from one side of the lake to the other – it was high, it was fast and it was over a big body of water. She told herself she would not go.
But, while in line she had a conversation with another Cougar. This young one talked with her about her own fears of the zip line. Then, Ms. Mullins decided to be a risk-taker!  She talked with the student and challenged her, "If you go, I'll go." She climbed up to the landing, was harnessed in and took off! Much to the delight of the campers, she could be seen and heard zipping across the lake!  
This undoubtedly provided the encouragement needed for many other Cougars to make the same trek. Thanks, Ms. Mullins, for showing your Cougar Character, for being a risk-taker and for being a positive role model!