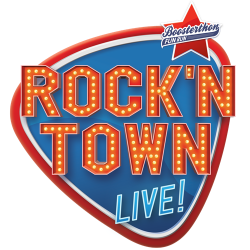 The Boosterthon Fun Run program is a healthy alternative to traditional product sales that raises much-needed funds for our school. This year's Boosterthon begins March 24 with our Pep Rally and wraps up April 2 with the Fun Run event – a wildly fun time that our kids truly enjoy!
This year's character theme is ROCK'N TOWN LIVE, a music festival theme all about COMMUNITY!
Every student participates in the Fun Run, regardless of pledges raised. Plus, they can access Boosterthon's world-class character resources. Parents, you must register your student on funrun.com in order for them to run. Just click the "Parent Permission Box." Your student will receive a FREE gift just for registering. Registration will open Tuesday, March 24 after the kick-off. Look for your student(s) code from their handout Tuesday after school.
Please feel free to come to the Pep Rally or Team Huddles to check it out. We still need volunteers for the Fun Run, so please contact either Susan Lueders (srlueders@att.net) or David Thorne (dhthorne@carolina.rr.com).
Event Times & Locations
3/24: Pep Rally – Gym 3rd-5th @ 2:15pm, K-2nd @ 3pm
3/25 – 4/1: Team Huddles – Gym- Last 15 mins of Connects per grade
4/2: Boosterthon Fun Run – Bus Lot

K/1st @ 9:45am
2nd/3rd @ 11am
4th/5th @ 12:15pm

4/17: Pledges Due Date
Thank you for your continued support!