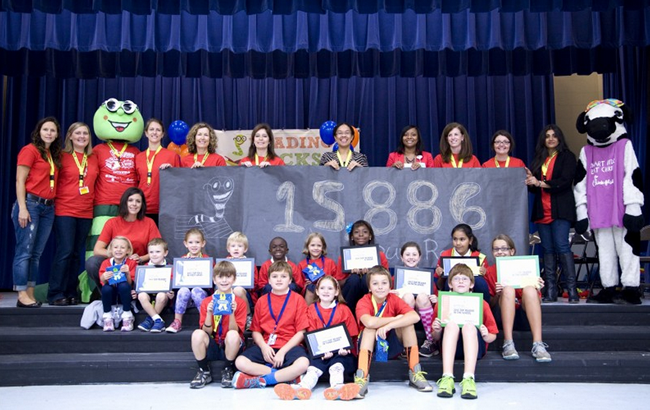 At the 2013 Reading Rocks Awards Day, 310 Students were celebrated for having read a Total of 15,886 Hours over the summer! Compare these results to last summer with 190 students reading 8,935 hours:
120 more students participated. We went from 24% of the school tracking their reading over the summer to 37%!
6,951 more total hours read this year!
36 more students made the 50 Hour Club. This puts 115 students of the 310 having read 50+ hours.  There were 79 students in 2012.
Notable participant jump from last summer? 5th Grade: 34 more students. 3rd Grade: 40 more students. This places these grades with have a participant increase of 100% or more!
Congratulations to the following Reading Rocks winners:
Reading Raffle by Grade: $25 Gift Card from ToysandCo. (K) S. Smith, (1st) L. Hinson, (2nd) D. Carter, (3rd) C. Barlow, (4th) W. Huff, and (5th) C. Blanton.
Top Reader in Each Grade: $50 Gift Card (K) Charlie H., (1st) Sarah Emily C., (2nd) Westen S., (3rd) Molly C., (4th) Shanayia M., and (5th) Tie: Kellen L. and Belen S.
Top 2 Readers in the School: $75 Gift Card Connor S. (5th) and Jimmy C. (2nd)
Grand Raffle Prize: FREE Bike from Bikesource Christopher R. (5th)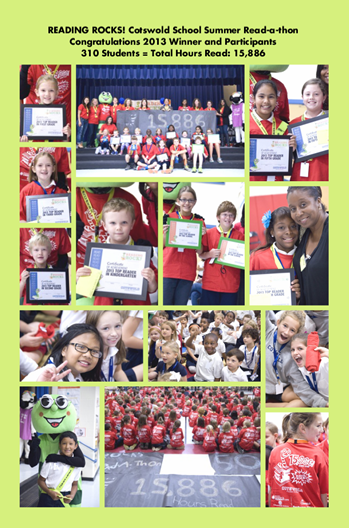 This day could not have happened without the support of the wonderful Cotswold teachers and staff, parents and especially our program's Partners and Sponsors:
A HUGE 'Thank You' to all the Reading Rocks! Volunteers – this day could not happen without all your hard work and dedication (you know who you are!). Regards, Joe-Anne Saldarini and Dr. Cindy Urbanski Reading Rocks Committee Co-Chairs